On September 15, 2007, Poorly Drawn People unleashed a free CD sampler/mixtape called Nothing Stays Gold on the masses. (FREE DOWNLOAD available here)
Frankly, we weren't expecting much from the 25-track compilation of new and unreleased songs; it was just a way to give you a taste of how PDP would sound in our new, streamlined incarnation, and let you know that we were still around between albums.
Six months and 600 copies and over 4000 downloads later, we couldn't be happier with the reception. New England embraced the release and is still giving us love for it, and we've gotten response from far-off lands like Eastern Europe, Colombia, Ireland, the Phillipines, and a mysterious nation called Pascoag, all saying they wanted more.
Since you asked so nicely, we put down the Jack bottles for a couple of weeks and cobbled together another 24 tracks that will hopefully creep out your car windows as they roll down for the first time this spring, and keep us in your ears as we retreat to the PoorlyDrawn Cave to finally finish off the next round of albums for you.
So, on Saturday April 5, we present to you: a new, absolutely FREE CD sampler - SHOOT FOR THE STARS, HIT THE CEILING, two dozen new joints from REASON, STORM DAVIS, DOX, ENTITY, and DJ STERBYROCK, with collaborations featuring Cas Uno and Esh from LABELESS ILLTELLIGENCE, Strange Famous Records' PROLYPHIC, AL BUMS, AMS UNO, and more!
Come down to the Living Room in Providence on Saturday April 5 and get your FREE copy of Shoot For The Stars, and check out performances from our peoples from near and far: Esh The Monolith of Labeless Illtelligence (performing material from his upcoming LP The Oddventures of an Eccentric Super Hero), Northampton MA crew The Problemaddicts (those who saw them rock with us on March 6 will tell you: don't miss their set!), Antfarm Affiliates from Connecticut, and Ax Butane & DJ Janks from Conscious Insanity, plus some surprises if time allows. Hosted by the inimitable Swerve One & the Creme Prince himself, Need Not Worry, and brought to you by our sponsors, AplombClothing.com, Muirphoto.net, Knowmore.org, and Classsick Screenprinting (logos below for brand identity reinforcement. CUZ THAS HOW WE LIVIN).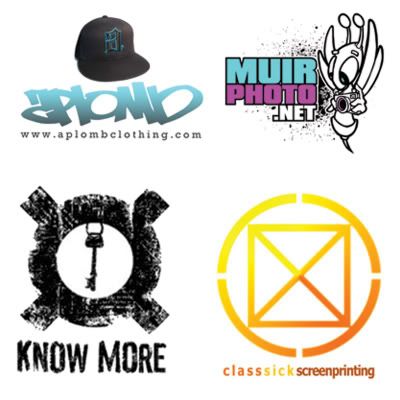 It all goes down:
SATURDAY APRIL 5 2008
THE LIVING ROOM
23 Rathbone St Providence RI
ALL AGES // doors 9pm // $10
There will be BRAND NEW Mens & Womens PDP TSHIRTS for sale at the show!
***THIS WILL BE THE LAST SHOW THROWN BY PDP
UNTIL THE RELEASE OF STORM DAVIS & DOX's Robot Rock & Necktie Blues THIS SUMMER!!!!!***