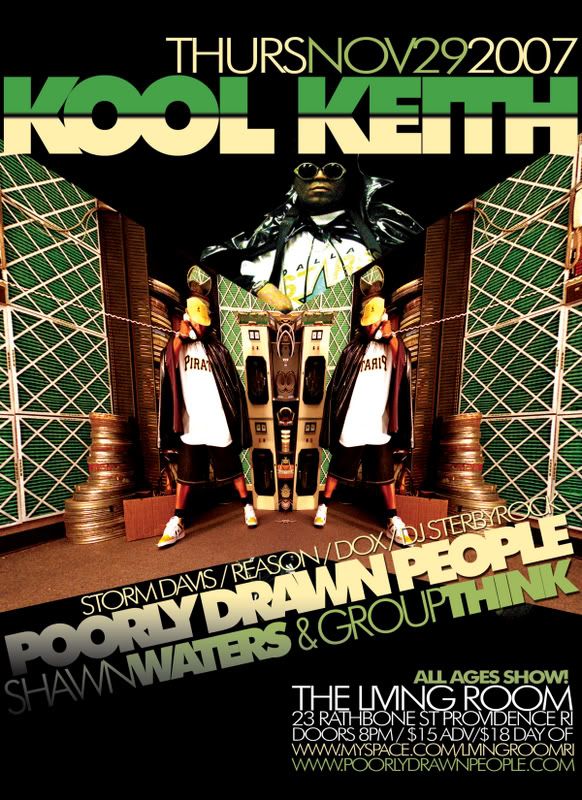 Thursday November 29
The Living Room
23 Rathbone St
Providence RI
ALL AGES / Doors 9pm / $15 advance $18 day of
KOOL KEITH
POORLY DRAWN PEOPLE
(Storm Davis / Reason / Dox / DJ Sterbyrock)
SHAWN WATERS & GROUPTHINK
AX BUTANE
You may know him as Dr Octagon, or from Ultramagnetic MCs, or maybe he's Black Elvis, Dr. Dooom, or Ice-T's partner in Analog Pimps. Or perhaps to you he's just Matthew. Whatever you call him, he's in Rhode Island this Thursday with Storm Davis & Poorly Drawn People, so you're going to want to be there.
(here's the venue version of the flyer, which, while stylistically dope, mysteriously omits the PDP brethren, so you will see it nowhere else by our hand):
It's an all ages show, so any uninitiated youngins are going to want to get the science on Mr. Thornton, and can do so here:
Kool Keith on Wikipedia
www.myspace.com/koolkeith
and most 'specially, you must view Kool Keith's thoughts on
seltzer water
.
additional info can be found at the
Living Room
.
...........
...a hearty thanks to all who came out to AS220 in Providence this past weekend to check the SD & PDP set that closed out a night put on by
19Ninty7
's Indef*Art. Performances by
Jots One, Charles ExSavior
, 97, and Pennsylvania's
Phynite
led to a dope-as-usual showing from PDP-affiliate
Need Not Worry
.
The show bled over into an afterhours gathering at SD's vista to celebrate the 30th anniversary of the hatching of the fabled
Big Doug
. The session featured what was truly the most high-minded non-drinking drinking game I've ever seen at such a function. But you're going to have to ask
Romen Rok
about that one.
Cas Uno
of
Labeless Illtelligence, DJ Al Bums, Dox,
Need Not,
Maverick Awesome, Falside, Petey Wheatstraw, DJ Double R, DJ Full Frequency, Entity,
and a cast of dozens turned out to pat the big fella on the back, and left a trail of Bud Light cans and empty whiskey bottles in their wake, just to prove they were there.